Marvel Heroes Online today announced their Founder's Program.
In an effort to drown players in choice, they have not one, not two, but twenty-four (!!!) packs to choose from! Â The packs are spread across 3 different tiers of support (starter, premium, and ultimate) ranging from $19.99 to $199.99. Â For a limited time only, all the packs are also coming with bonus in game currency, that essentially doubles the amount of in game cash you'll receive.
At the starter level, you have 16 different packs to choose from, each pack giving you one character, and one costume for that character. Â The premium tier gives you 4 characters (except for in the Deadpool pack, then you only get Deadpool) – The Deadpool pack actually gives you additional in game currency, and an extra costume. Â The Ultimate pack gives you well… everything. Â All announced Heroes, all costumes for the heroes, and a Permanent XP/Item Finding boost of 5%!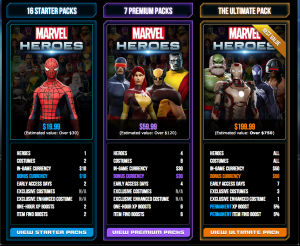 Head on over to the Marvel Heroes site and pick up your Founder's pack now!