With Open Beta in full swing, and all the patches, tweaking, and content additions that go with that, the MechWarrior Online team, has also taken a moment (or a few moments), to throw some fun holiday items in the MWO Store.
So Let's see what Atlas Claus can bring this year!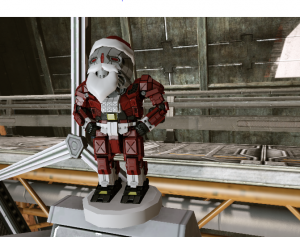 The 'man' himself Atlas Claus will run you 1,000 MC (the 'cash store currency' for MWO).  Here's the rest of the holiday goodies:
"Bobbleheads"
SnowMech – 750 MC
Christmas Tree – 500 MC
Gift Boxes – 250 MC
Christmas CommandElf – 1,000 MC
"Hanging Decorations"
"Wall Decorations"
Christmas Wreath – 250 MC
Never one to miss a chance to show off my horrible photo-editing skills.. here's a pic showing all of the above items at once:
These are limited time items, so get 'em while they're hot!
There's even something for the naughty MechWarrior on your list: